Academic research
The structured search engine for academic research
The web is a source of a vast amount of information. But it's also the greatest information chaos. It's unstructured which makes it extremely hard to use the data for academic research. Our search engine provides researchers at national statistical offices and universities with easy access to clean structured data. Use web data insights from 600 million domains, including 25 million company websites, for your statistical analyses, verification purposes or research focus expansion. Analyze the Covid-19 impact on digital transformation and technology adoption, measure countries' digital economies and examine how cybercrime affects businesses and governments.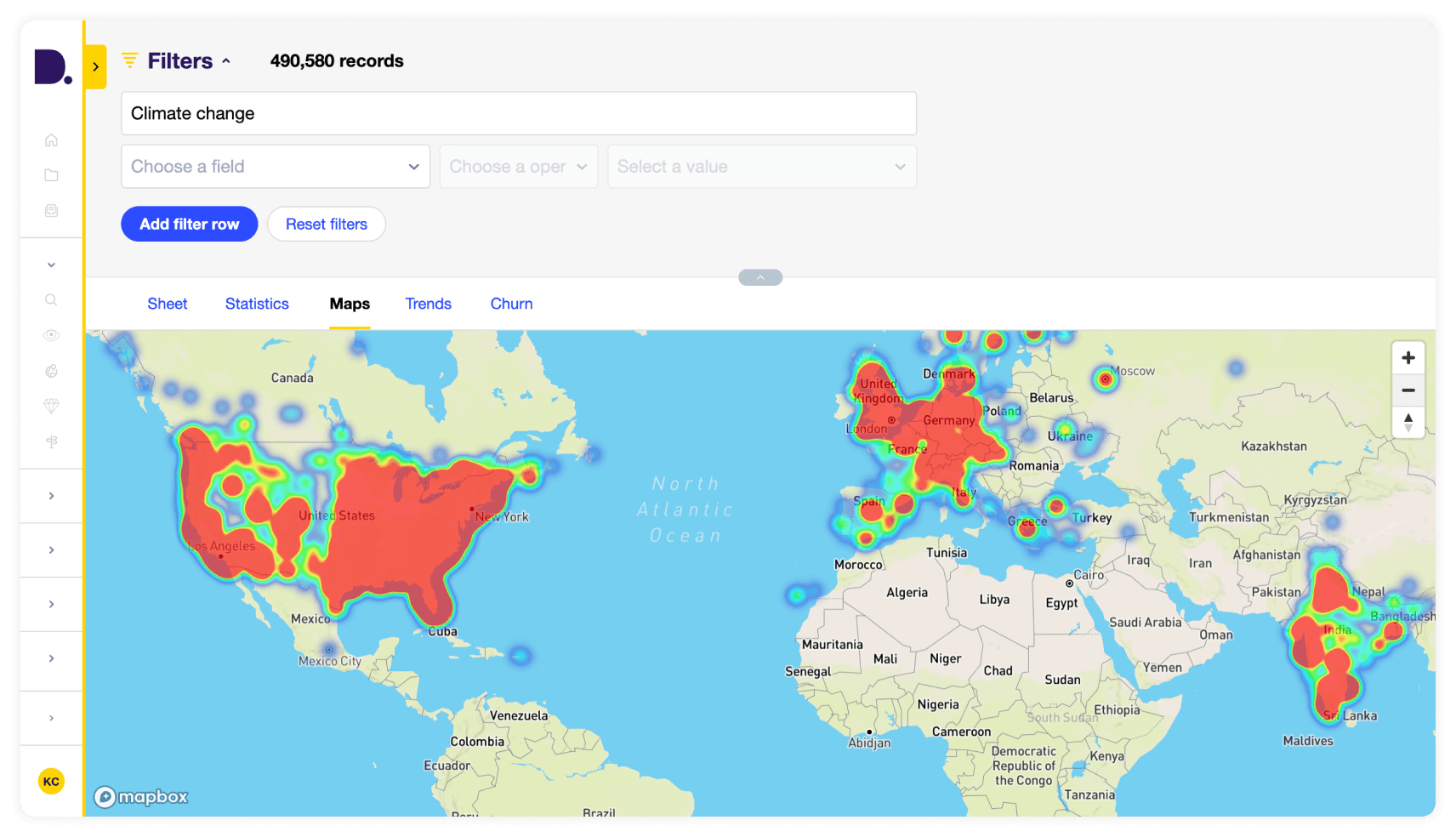 Academic research
Explore a broad depth of web coverage for your research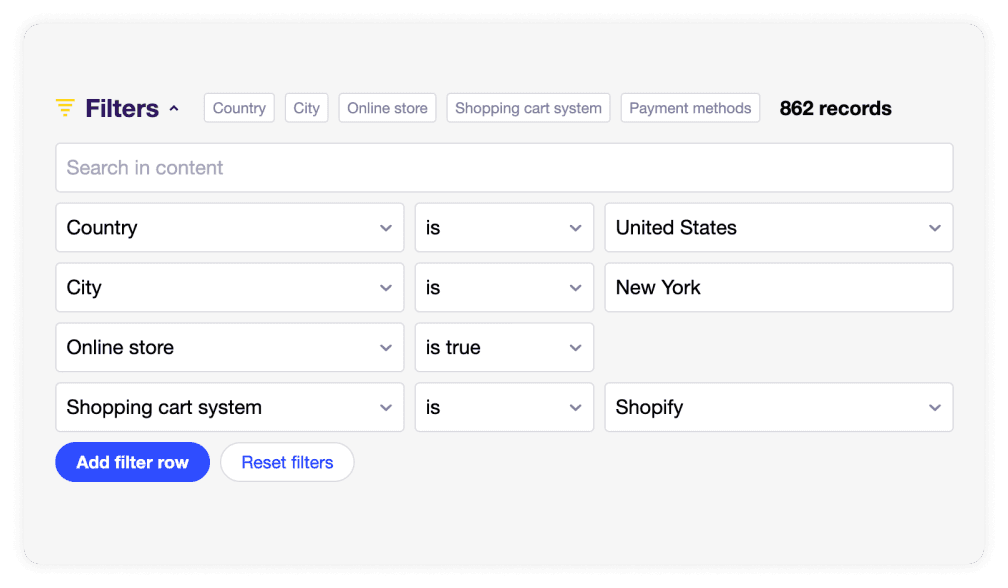 Do deep analyses to answer very specific questions
Use our structured Search Engine to get unique insights into the structure and contents of the internet. Dissect the data with more than 200 data points, such as company name, web technologies, online store, country, city and discover information you can't find using a regular search engine. Build comprehensive datasets to gain granular insights into geolocation, business, content, e-commerce, marketing, technical specifications, hosting and development.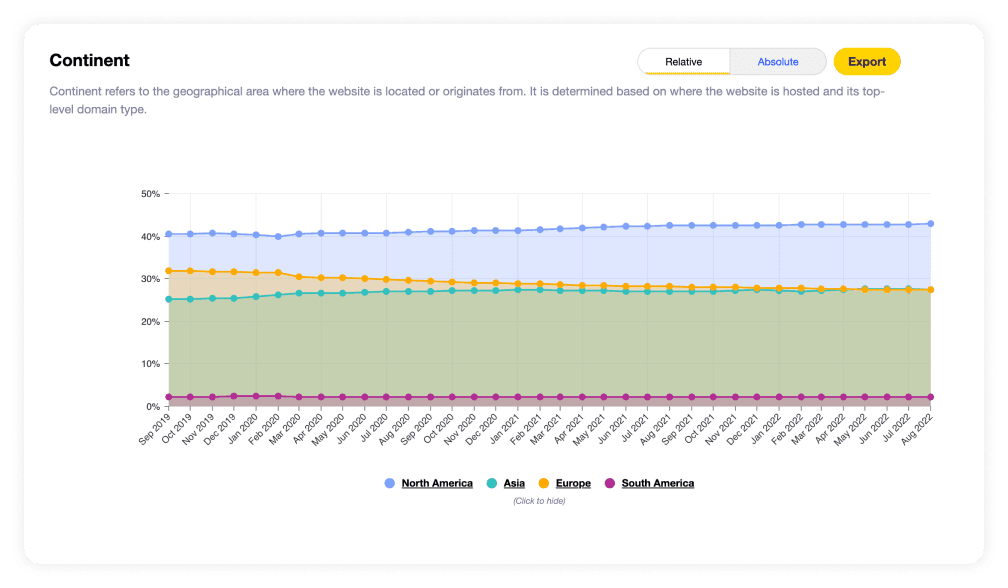 Explore web history for a trend analysis
Search through up to four years of internet history and measure and track current and historical trends to see how the data is evolving. Go back in time and analyze web trends to get a historical perspective or follow monthly growth and decline over time. Request a history lookup of a domain, with all changes to the domain being tracked, and delve into its past. Construct detailed company profiles, find new angles for your research and expand your focus and methods using web trends.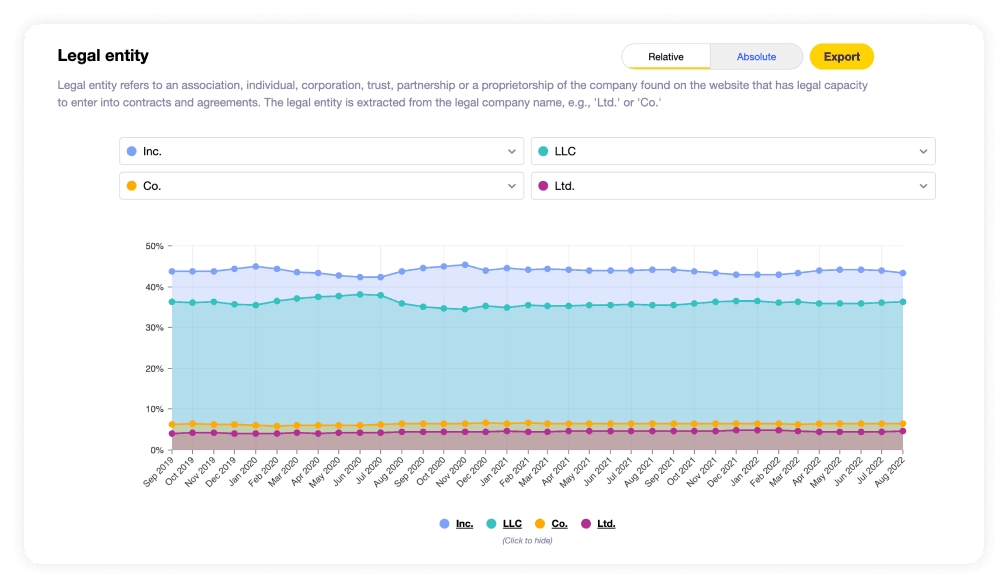 Adopt an innovative approach to complement your research data
Integrate a web-based source with traditional ones for in-depth research. Check the plausibility of your research results or complement your data as necessary. Put together an almost complete picture of the digital economy of a country. Make use of exhaustive datasets based on relationships to facilitate in-depth analyses of various trends: which are the most popular web technologies that businesses are using, how are small businesses growing, what's the state of different industries across countries and more.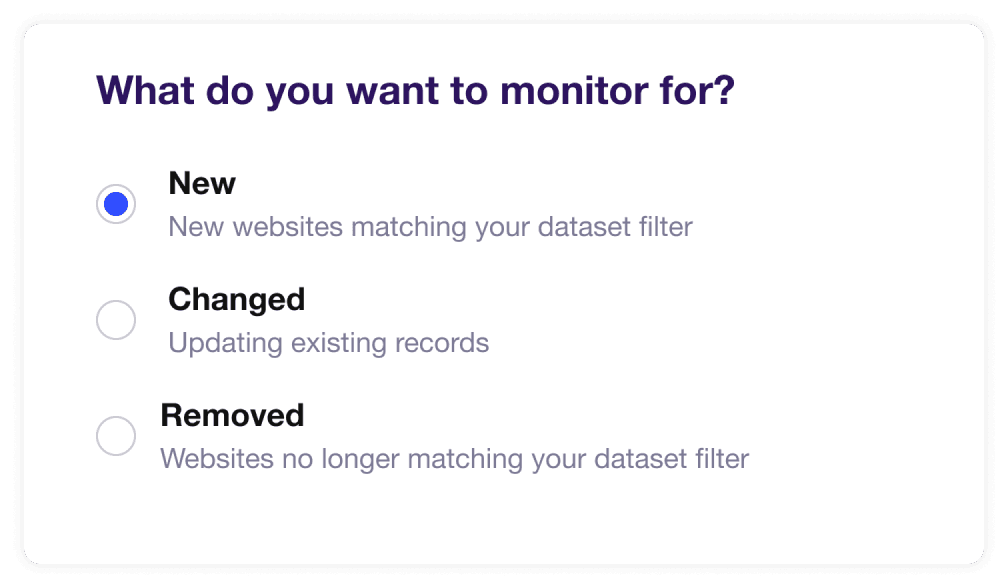 Rely on actionable and verifiable data
Never doubt the transparency and accuracy of our data which is indexed from public websites and updated every month. Receive automatic notifications in your tool of choice whenever anything on the domains you're interested in changes: for example, when a website starts using a new web technology or a website becomes an online shop. Turn lists into actionable insights with a single click: break down results by more than 200 relevant data points, so you can dig into the data and find very specific information.
Products
Search Engine

Filter results by a company name, web technology, country and more

Measure and track historical web trends in 50 countries
Instantly access graphs and statistical reports
Export raw data for your own custom analyses

Traffic Index

Track the popularity of websites and different web services

Rely on a benchmarked estimation relative to the most popular website
Monitor the popularity of hostnames and web services
Explore all relevant discovered subdomains

Enrichment

Start from a hostname and discover all relevant web details

Match your data with the data in our database
Enrich your list of hostnames also with historical data
Export the data to a CSV file