Traffic Index
Gain actionable insights into the popularity of websites and online services
Monitor the popularity of a hostname and track how it changes over time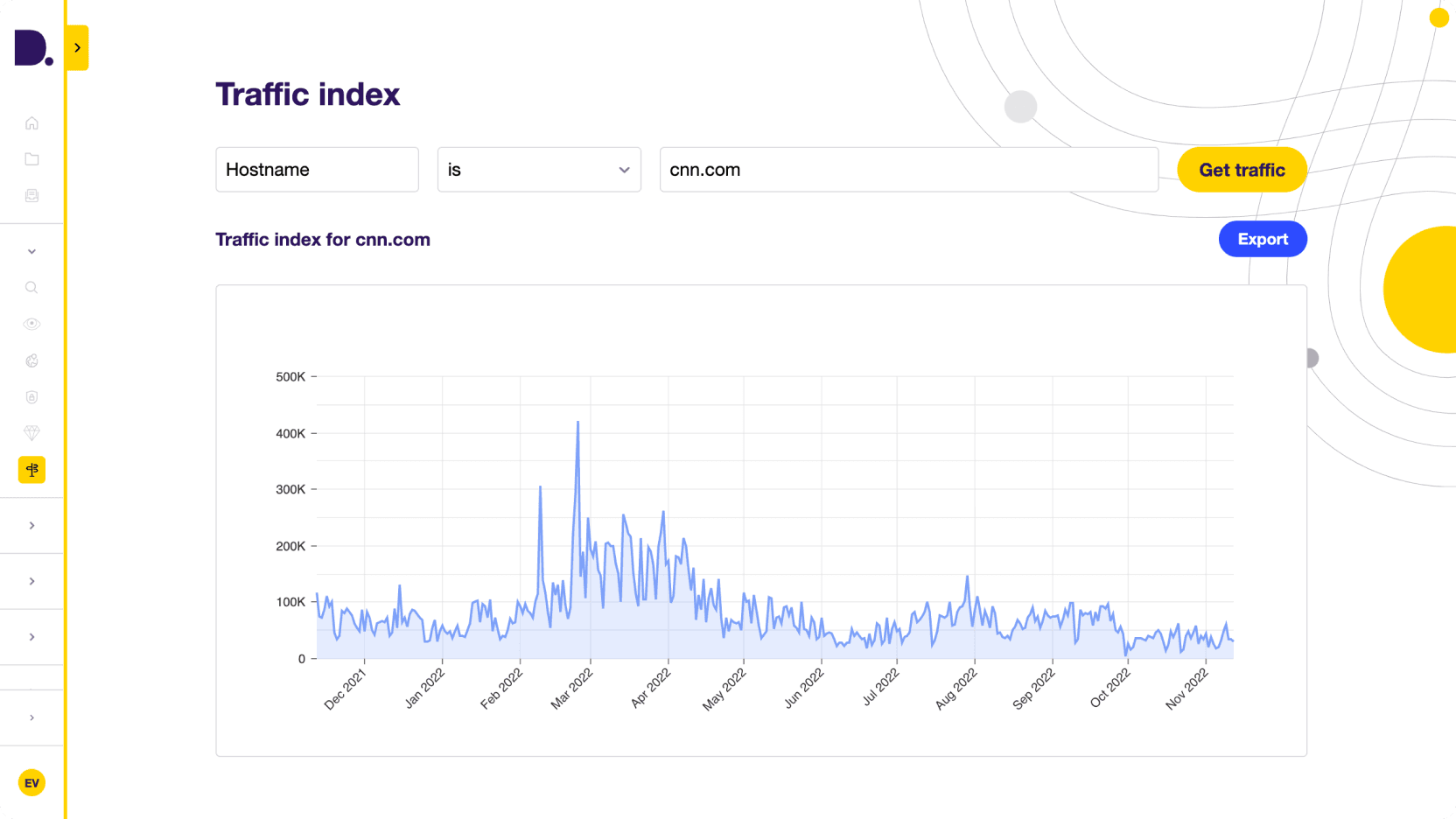 Features
Benchmarked traffic estimation
Daily and monthly Traffic Index
The traffic insights provided by web analytics tools are far from precise: the plain truth is that only the website's owner knows the exact traffic to a website. That's why we've developed our proprietary Traffic Index which is a benchmarked estimation relative to the connections to www.google.com. Unlike other tools that use browser extensions to measure traffic, our Traffic Index is determined by a worldwide pool of anonymized and uniquely hashed connection data that provides much deeper insights.
Web services and apps
Track what services a website uses
Using our Traffic Index helps you determine not only the daily and monthly popularity of hostnames but also of web services and apps such as Netflix, Slack and many more. Monitor the growth or decline of payment and communications web technologies that tech companies around the world are using. Use the data as input to evaluate the respective technologies and make better forecasts for your equity research.
Subdomains
Identify the internet footprint of a company
Our Traffic Index differs from other website traffic monitoring tools as it also shows all relevant discovered subdomains. Use them as an indicator of the expansion or decline of web technologies and services such as Tesla, Apple, Microsoft and many more. Discover all known subdomains to gain additional input for your alpha-generating investments and to better understand the popularity, development and clients using the technology.
Get started
Whether you need actionable web data insights for day-to-day projects or for long-term strategies, the answer to your question lies in our structured web data.