SSL Catalog
Gain detailed insights into and from SSL certificate issuance
Daily, we retrieve and structure the SSL certificate data published through CT logs to have all SSL information in one place, in an easily searchable format. Our SSL Catalog comprises billions of SSL records organized into six categories, with the possibility to filter the results using more than 40 data fields, such as SSL issuer organization, SSL certificate type, certificate start date, Subject organization, CT log name and many more.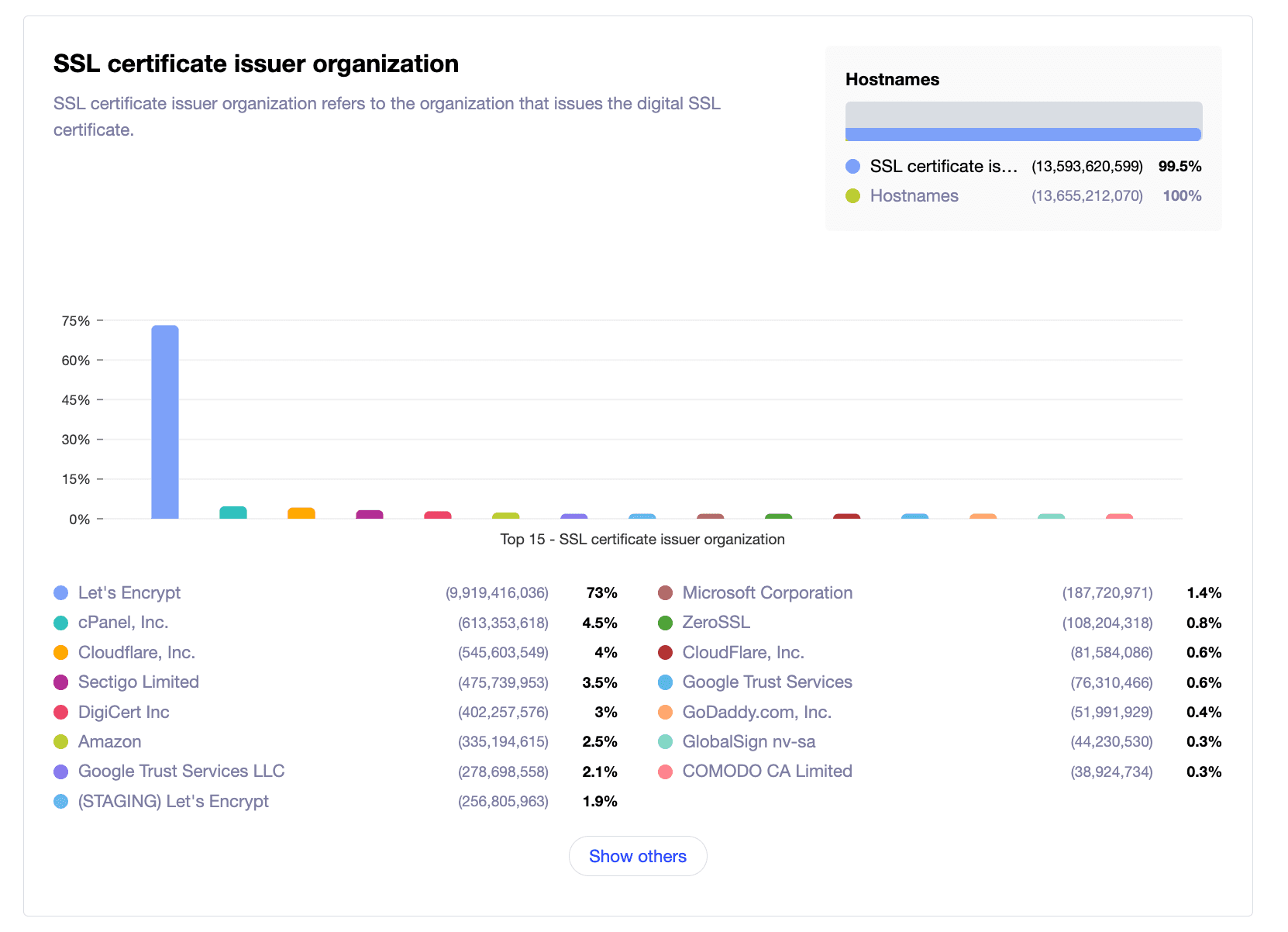 Features
Daily updated SSL data
Monitor the expansion of SSL certificates
We created the SSL Catalog to provide a structured database of publicly available SSL certificate information, so you can gain insights into software vendors, web hosting companies and SSL certificate resellers. As our SSL Catalog is updated hourly, it includes all the latest public SSL certificates that were issued on that day by different Certificate Authorities. That way, you can track the growth and decline of different types of certificates and issuers as well as monitor changes from one SSL issuer to another.
Asset management
Monitor a company's growth of cloud services
SSL certificate data provides a unique view behind firewalls, revealing all machines connected to a specific SSL certificate. For example, search for hostnames containing 'azure.mongodb.net' to find all MongoDB clients running on Azure. Dive into the data for additional information about the company: what types of certificates are the devices using, and how is this changing historically? Use these insights as a market share metric to estimate the monthly and annual growth of cloud services.
Cybersecurity and brand protection
Map digital assets and detect security vulnerabilities
Identify all SSL certificates associated with a certain domain and map the digital assets of a company; filter through the results to ensure consistency per issuer, validity of certificates, compliance with industry regulations and more. This way, you can identify vulnerabilities, prevent phishing attacks and spot fraudulent websites.
Ownership
Be one step ahead of your competitors
An SSL certificate can secure multiple domains and subdomains, while multiple domains of the same owner might have the same SSL certificate. Use our SSL Catalog to discover all certificates issued by a certain company, domain or by a particular Certificate Authority.
Get started
Whether you need actionable web data insights for day-to-day projects or for long-term strategies, the answer to your question lies in our structured web data.