Registries
Track the latest TLD trends to increase renewals and registrations
Benchmark against other TLDs, including the market leader, and make more precise forecasts for your monthly and yearly goals. Analyze changes to your domain portfolio and check usage, redirects, security and more. Share these actionable web data insights with your channel partners, so they can understand their end users, find new growth opportunities and upsell the right products and services at the right time.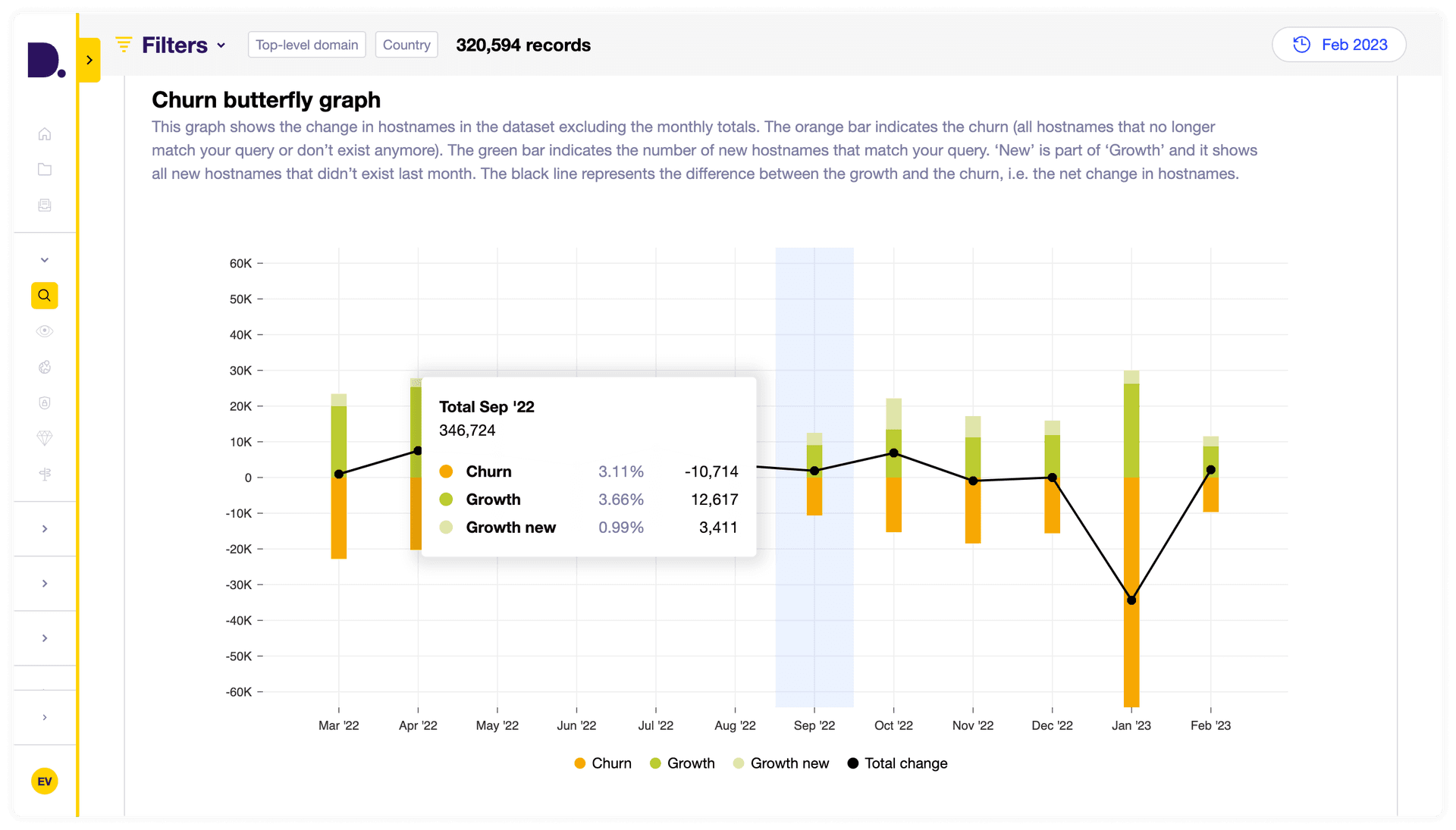 Monitor your zone file
Track TLD trends and control the health and growth of your zone files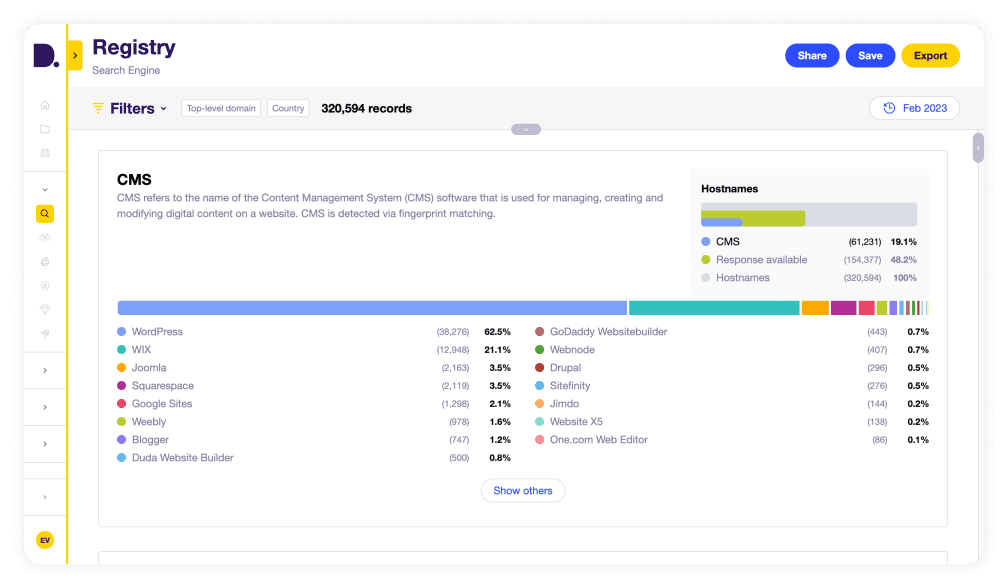 Prevent cybersecurity threats
Support your registrar partners with an in-depth overview of domains that are at risk of hacking, phishing attacks and other security threats. Identify websites with open ports, outdated content management systems (CMS), unsupported PHP versions or without SSL certificates and share this crucial information with them, so they can take action right away and ensure renewals and new registrations.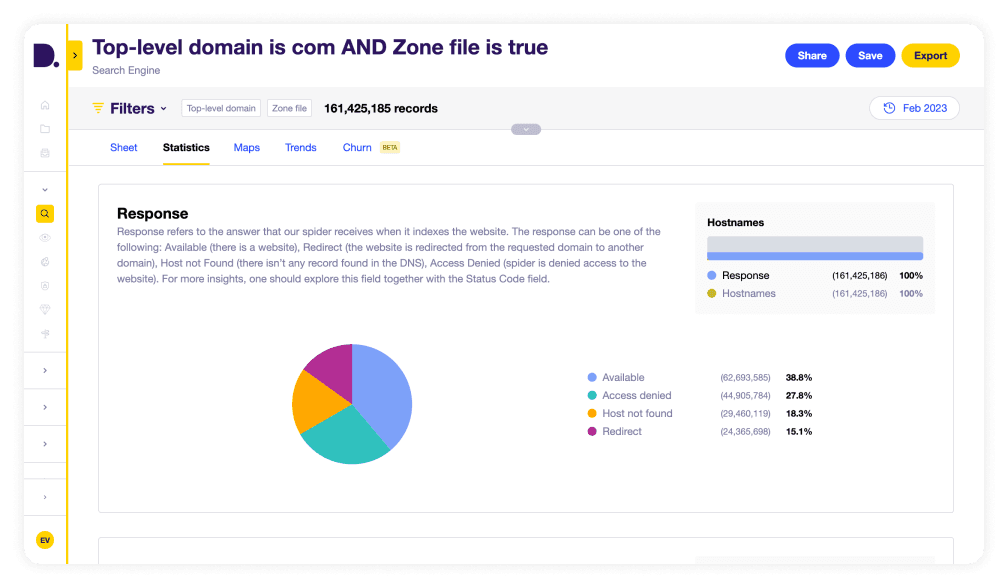 gTLDs: Increase renewals and registrations
Get a 360-degree view of the domains in your zone file. Apply our data filter 'Response' to discover how many are active business websites, blogs, placeholders or parked domains. Dig deeper and filter by 'Country', 'Website type', 'Language', 'SIC major group' and more. That way, you can help your registrar partners run targeted marketing campaigns: for example, offer SSL certificates to online stores or website builders and email hosting to parked domains.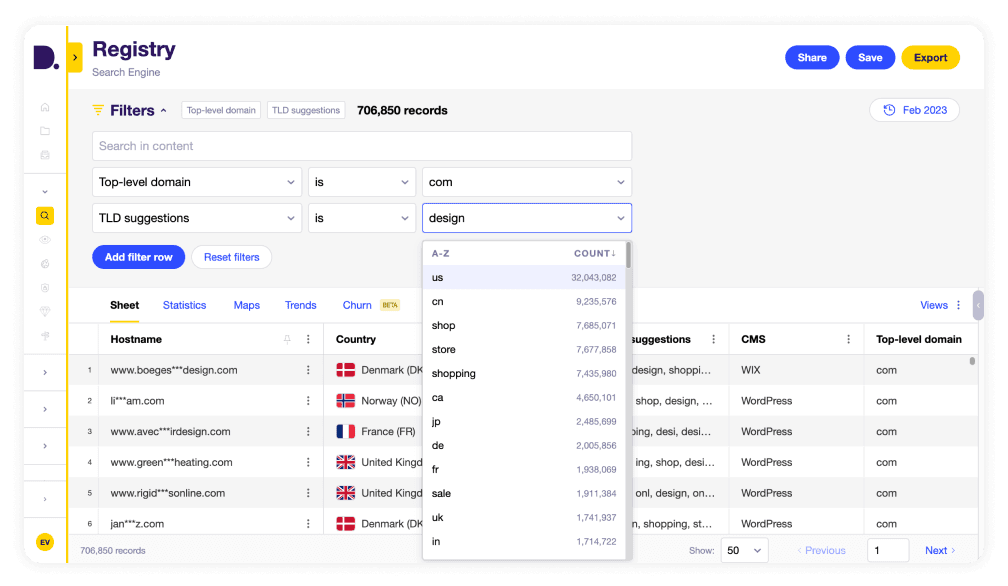 ngTLDs: Grow your market share
With the influx of nTLDs getting registered each day, you need to apply a more creative and strategic approach to promote your TLD. Identify new customers by searching for domain names that contain your TLD. For example, select the data filters 'Title', 'Description', 'Keywords' and 'Company name' to discover all domains that contain "space" (www.intelligentspace.com) and can benefit from a shorter and more targeted domain name: www.intelligent.space.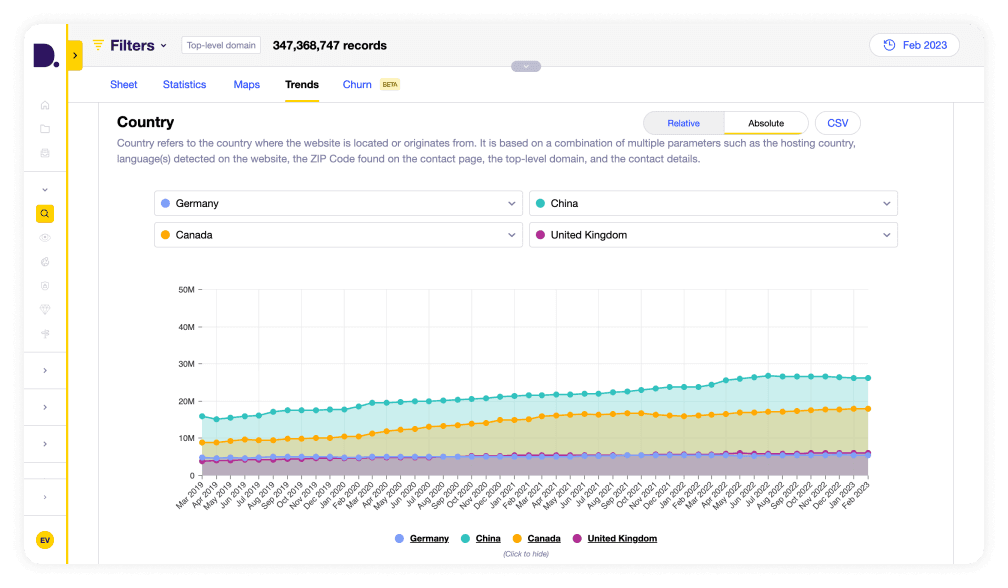 ccTLDs: Track the health and growth of your zone files
Leverage our geographical data to find domains in your country that are registered under gTLDs or new gTLDs. Measure and compare the percentage of domains using your ccTLD and other gTLDs and analyze why it's so. Discover who the market leaders are and how you benchmark against them. You can dissect the data and filter the domains by language, industry, country, activity and over 200 other data points to get more in-depth insights that will support your marketing efforts.
Products
Search Engine

Filter the web by over 200 data points such as registrar, hosting company, TLD type

Measure and track TLD trends in 50 countries
Analyze the data with automatically generated graphs and statistical reports
Export CSV reports

Know Your Customer

Upload your domain name assets on our firewall-protected servers to get more insights

Import your data from a CSV file and add a unique ID
Analyze trends and scores over time
Export PDF reports to understand your end users

Ownership

Trace any domain back to its roots, uncover hidden connections

Uncover networks & ownerships
Access historical data
Retrieve associated websites